Snow
by Gina Inverarity
$24.95
AUD
Category: Young Adult
When the girl brought my bowl she was in and out through the door like she couldn't move fast enough. And when the lock clicked after her I found something she'd left. A knife. And not one for spreading butter, but a sharp one for slitting throats.Locked in a cell by her stepmother, Snow grows small but she still grows. Even so, she's hardly a match for a world gone wild, where the sun has disappeared behind clouds for good. The night the hunter takes her into the forest with orders to cut out her heart, Snow makes him a promise she isn't sure she can keep. And then she runs.Snow's life is no fairytale. As she grows up her path will take her into the mountains, over misty passes, desolate gorges and alpine rivers, as well as to the city, where she will make her case for the return of what is hers.And her childish promise will not be forgotten.A dark and lyrical Snow White retelling set in a post-climate-change world, Snow is a fairytale of the future. ...Show more
$16.99
AUD
Category: Young Adult
'Forget everything you think you know . . .' Ana Moon's best friend Bea has vanished. Her house has changed. Her parents have become strangers. She has fallen into a world that is not her own. Guided by the mysterious Malik and his Pathfinders, Ana must travel across seven versions of Earth to get Bea back. Lying in wait are the sinister Order, monstrous Reapers and a rogue Pathfinder bent on finding the elusive seventh world, and who will destroy anyone who stands against them. To save Bea, Ana must master her own Pathfinder powers, or it won't only be her friend who is lost forever - it will be Ana herself . . . A fiercely paced science fiction thriller, perfect for fans of Marie Lu. ...Show more
$24.99
AUD
Category: LGBTQIA
In this inclusive book of ABCs, four friends play and explore during a playdate extravaganza. As they sashay out of closets and discover a wardrobe fit for a king or queen, they realize that many problems can be solved with a little makeup, imagination, and, of course, your best friends! Featuring brig ht illustrations and upbeat, accessible poems, The GayBCs is perfect for fans of A Is for Activist and Feminist Baby-showing kids and adults alike that every identity is worthy of being celebrated. ...Show more
$16.99
AUD
Category: LGBTQIA
You do magic once, and it sticks to you like glitter glue... Gay angsty teen Johnny and his goth best friend, trans girl Alison, spend their summer dabbling in magic. When they use spells to defend themselves from bullies, they suddenly find themselves whisked away to the Marduk Institute, a school for wayward wizards. Johnny and Alison must now adapt to a new world of spells, fraternities, and cute boys like Hunter and Blake... But Marduk isn't as safe as it seems. Johnny and Alison are pulled into a supernatural fight for their lives and must find the strength to battle the monsters lurking in the shadows of the school - and the demons that only exist inside their head. ...Show more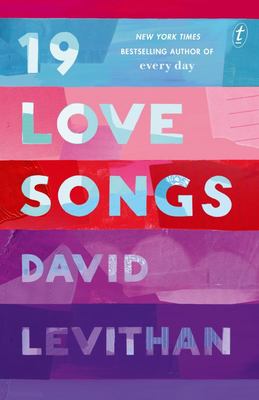 $19.99
AUD
Category: LGBTQIA
A resentful member of a high school Quiz Bowl team with an unrequited crush. A Valentine's Day in the life of Every Day's protagonist 'A'. A return to the characters of Two Boys Kissing. 19 Love Songs, from New York Times bestselling author David Levithan, delivers all of these stories and more. Born f rom Levithan's tradition of writing a story for his friends each Valentine's Day, this collection brings all of them to his readers for the first time. With fiction, nonfiction, and a story in verse, there's something for every reader here. Witty, romantic, and honest, teens (and adults) will come to this collection not only on Valentine's Day, but all year round.   ...Show more
$24.95
AUD
Category: Young Adult
 'The door creaks open and standing in the entrance is my absolute worst nightmare. Perfect hair, perfect teeth, perfect brain. Perfect sneer. Evelyn Tait.' Impulsive Lottie - heavy-metal fan, expert tomato-grower and frequent visitor to the principal's office - is in even more trouble than usual. Her b est friend Grace has dropped an unlikely bombshell: she's dating Lottie's mortal enemy, good-girl Evelyn Tait. Studious Jude, the boy next door, has the perfect war plan. Lottie will beat Evelyn at her own good-girl game, unveiling Miss Perfect's sinister side in the process. Taking life more seriously starts as fun, but soon offers its own rewards ... so long as Lottie can manage gorgeous Sebastian's sudden interest, Jude acting weird, and the discovery that she might actually be good at something. 'Taking Down Evelyn Tait' is a story about family, friends and embracing who you are. Even if that person is kind of weird. ...Show more
$19.99
AUD
Category: Young Adult | Series: The Fowl Twins
Criminal genius runs in the family... Myles and Beckett Fowl are twins but the two boys are wildly different. Beckett is blonde, messy and sulks whenever he has to wear clothes. Myles is impeccably neat, has an IQ of 170, and 3D prints a fresh suit every day - just like his older brother, Artemis Fowl. A week after their eleventh birthday the twins are left in the care of house security system, NANNI, for a single night. In that time, they befriend a troll on the run from a nefarious nobleman and an interrogating nun both of whom need the magical creature for their own gain . . . Prepare for an epic adventure in which The Fowl Twins and their new troll friend escape, get shot at, kidnapped, buried, arrested, threatened, killed (temporarily) . . . and discover that the strongest bond in the world is not the one forged by covalent electrons in adjacent atoms, but the one that exists between a pair of twins. The first book in the blockbusting new series from global bestseller Eoin Colfer. ...Show more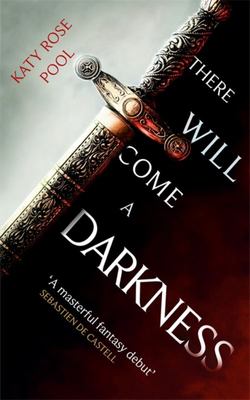 $16.99
AUD
Category: Young Adult | Series: The\Age of Darkness Ser.
Leigh Bardugo's Six of Crows meets Kristin Cashore's Graceling, with a dash of Winter is Coming, in this showstopping debut YA fantasy--and recipient of FOUR starred reviews! A Kirkus Best Book of the Year! An Indigo Best Book of the Year! "A can't miss debut from an exciting new talent." -Kiersten Whi te, New York Times bestselling author of Slayer "If you've been waiting for the next big fantasy series, it has arrived." --The Amazon Book Review The Age of Darkness approaches. Five lives stand in its way. Who will stop it . . . or unleash it? For generations, the Seven Prophets guided humanity. Using their visions of the future, they ended wars and united nations--until the day, one hundred years ago, when the Prophets disappeared. All they left behind was one final, secret prophecy, foretelling an Age of Darkness and the birth of a new Prophet who could be the world's salvation . . . or the cause of its destruction. With chaos on the horizon, five souls are set on a collision course: A prince exiled from his kingdom. A ruthless killer known as the Pale Hand. A once-faithful leader torn between his duty and his heart. A reckless gambler with the power to find anything or anyone. And a dying girl on the verge of giving up. One of them--or all of them--could break the world. Will they be savior or destroyer? Perfect for fans of Throne of Glass, Children of Blood and Bone, and An Ember in the Ashes. Praise for There Will Come a Darkness "Even in a world filled with graces and prophets, the real magic of There Will Come a Darkness is in how Pool has crafted her heroes--messy, flawed, and so beguilingly human. I dare you not to fall madly in love with all of them." --Laura Sebastian, New York Times bestselling author of Ash Princess * "A well-crafted, surprising, and gripping start to a new trilogy." --Kirkus Reviews, STARRED review ...Show more
$19.99
AUD
Category: Young Adult
Ever since the witch cursed Babs, she turns invisible sometimes. She has her mum and her dog, but teachers and classmates barely notice her. Then, one day, Iris can see her. And Iris likes what they see. Babs is made of fire. Iris grew from a seed in the ground. They have friends, but not human ones. N ot until they meet Babs. The two of them have a lot in common: they speak to dryads and faeries, and they're connected to the magic that's all around them. There's a new boy at school, a boy who's like them and who hasn't yet found his real name. Soon the three of them are hanging out and trying spellwork together. Magic can be dangerous, though. Witches and fae can be cruel. Something is happening in the other realm, and despite being warned to stay away, the three friends have to figure out how to deal with it on their own terms. Anyone who loves the work of Francesca Lia Block and delights in Studio Ghibli films will be entranced by this gorgeous and gentle young adult novel about three queer friends who come into their power. ...Show more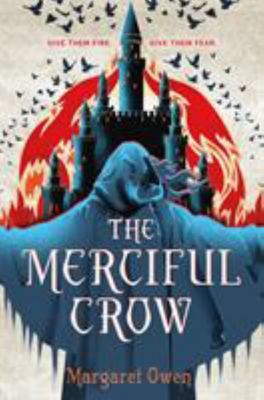 $26.99
AUD
Category: Young Adult | Series: Merciful Crow Ser.
Debut author Margaret Owen crafts a powerful saga of vengeance, survival, and sacrifice--perfect for fans of Leigh Bardugo and Kendare Blake--in The Merciful Crow. "Rich, harrowing, and unafraid to tackle discrimination--perfect for fans of Leigh Bardugo and Tomi Adeyemi."--Kirkus, Starred Review One way or another, we always feed the crows. A future chieftain Fie abides by one rule: look after your own. Her Crow caste of undertakers and mercy-killers takes more abuse than coin, but when they're called to collect royal dead, she's hoping they'll find the payout of a lifetime. A fugitive prince When Crown Prince Jasimir turns out to have faked his death, Fie's ready to cut her losses--and perhaps his throat. But he offers a wager that she can't refuse: protect him from a ruthless queen, and he'll protect the Crows when he reigns. A too-cunning bodyguard Hawk warrior Tavin has always put Jas's life before his, magically assuming the prince's appearance and shadowing his every step. But what happens when Tavin begins to want something to call his own? ...Show more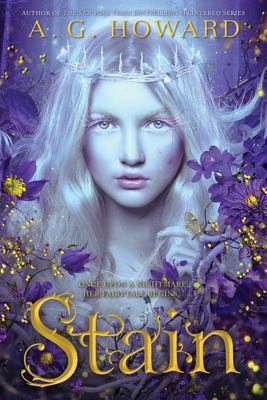 Stain
by A. G. Howard
$16.99
AUD
Category: Young Adult
After Lyra-a princess incapable of speech or sound-is cast out of her kingdom of daylight by her wicked aunt, a witch saves her life, steals her memories, and raises her in an enchanted forest ... disguised as a boy known only as Stain. Meanwhile, in a rival kingdom, the prince of thorns and night is dy ing, and the only way for him to break his curse is to wed the princess of daylight-for she is his true equal. As Lyra finds her way back to her identity, an impostor princess prepares to steal her betrothed prince and her crown. To win back her kingdom, save the prince, and make peace with the land of the night, Lyra must be loud enough to be heard without a voice, and strong enough to pass a series of tests-ultimately proving she's everything a traditional princess is not. ...Show more
$16.99
AUD
Category: Young Adult
Ten years ago, Jess's mother was murdered by the Magpie Man. She was the first of his victims but not the last. Now Jess is the star of a YouTube reality series and she's using it to catch the killer once and for all. The whole world is watching her every move. And so is the Magpie Man.