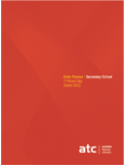 $20.00
AUD
$24.99
(19% off)
Category: Teacher Diaries
Keep everything in one place with all the features you need for efficient class management integrated in your Secondary School Daily Planner.   Free Plastic Dust Jackets Supplied On All Bound Diaries & Planners   Features Refreshed Design Personal Details 2018 Year Planners, 2018 & 2019 Calendars Public Holidays & Term Dates Professional Development Records Personal Contacts Timetable Blanks Email / Correspondence Records Interview Records Staff Meetings Curriculum Overview Planning 'Must Do' Activities – Blank for day / week Space to list Meetings / Duties Student Notes Student Work & Test Record Pages Attendance Pages Home Class Records 1 x Plastic Pocket ...Show more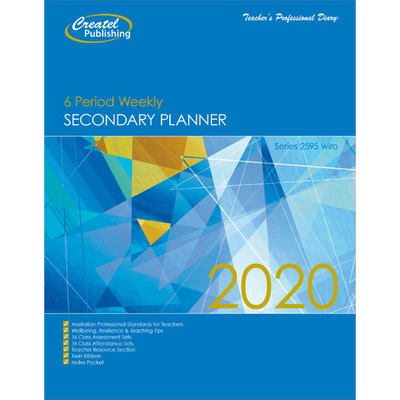 $23.95
AUD
Category: Teacher Diaries
With its 6 period week-to-a-view layout, our Secondary 6 Period Weekly features a 32 page colour teacher resource section, fresh new front cover, as well as all-new wellbeing and teaching tips. Select from wiro-bound or loose leaf and then add your own touch with our stylish cover accessories. As par t of our Secondary Teacher's Professional Diary range, this planner includes a durable laminated cover, three month at-a-view planner, 16 class assessment/attendance records (loose-leaf reinforced), teacher's resource section, bonus assessment spreadsheets, tear-off assessment quick-notes, built-in twin ribbon (wiro only) and a polypropylene notes pocket (wiro only), plus: 224 A4 pages Priorities this week section Classroom notes and resources column After school notes section Phone Calls and Parent Meetings record Australian Professional Standards for Teachers ...Show more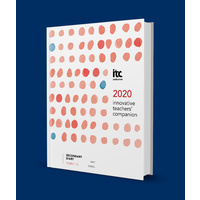 $27.95
AUD
Category: Teacher Diaries
Wire-bound - a protective PVC jacket is provided and assembled on your diary Loose-leaf - fits all 3 and 4 ring binders. Add the ITC binder below.  The innovative teachers' companion Secondary Years edition (7-12) is your teachers' diary to assist you with your daily, monthly and yearly planning. The S econdary diary is a day to a page, with the following additional features:  Hundreds of Year 7-12 lesson activities, all aligned to the Australian curriculum Lesson planning checklist and templates Assessment records, class rolls and professional logbooks.  Scores of professional readings including time-saving student feedback strategies Your 15 regularly used cognitive task verbs - fully unpacked! NEW - Education Awareness days with links to hundreds of online activities! Access to hundreds of online activities through itcthinkdrive.com.au The colourful itc Lesson Launchpad to assist with lesson planning and designing assessment Additional plastic sleeves for extra storage Is your current diary too heavy? Do you want to add extra items or take items out? Customise your diary with the itc loose-leaf version! Available in all editions. ...Show more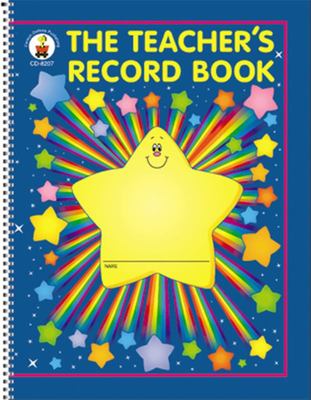 $17.99
AUD
Category: Teacher Diaries
This classic, wire-bound, 8.5" x 11" record book includes 60 record pages for every subject, 16 attendance pages, student roster, behavior log, grading percent chart, and a four-year calendar. It is the perfect addition to any teacher&#8217s organizational routine.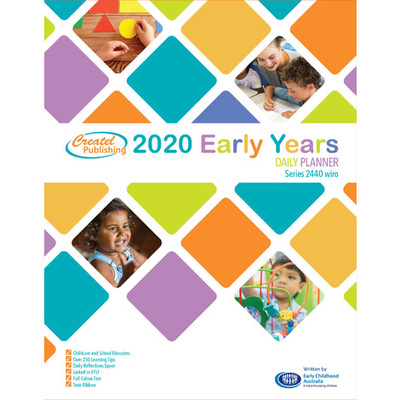 $25.95
AUD
Category: Teacher Diaries
The Early Years Daily Planner is our popular diary for early childhood educators. Its practical layout includes ample writing space for recording reflections, notes, meetings, focuses, interactions and learning experiences. The Early Years Daily Planner has been written in collaboration with Early Child hood Australia, the peak national early childhood advocacy organisation, and features over 250 early years learning tips linked to the Early Years Learning Framework (EYLF) and National Quality Standard (NQS), which are aimed at supporting educators in their profession. This planner also features: Over 250 teaching tips linked to the EYLF NQS and EYLF summary Daily reflections, notes and meetings space 54 anecdotal assessment records Learning area sketch pages 2020 At A Glance Planner Clear PVC protector cover Twin ribbon and plastic pocket (wiro only) ...Show more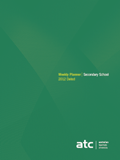 $25.99
AUD
Category: Teacher Diaries
Public Holidays & Term Dates Professional Development Records Timetable Blanks Email / Correspondence Records Interview Records Staff Meetings Curriculum Overview Planning Week to an opening diary Space to list Meetings / Duties Student Notes Student Work & Test Record P ages Attendance Pages Home Class Records 1 x Plastic Pocket Bookmark Ribbon ...Show more

$29.95
AUD
Category: Teacher Diaries
The 128-page Aim High Teacher Planner helps teachers organize information and lesson plans for the school year. This planner provides spaces for these areas: -substitute information -yearly planning -contact info -communication logs Forty-six tab stickers are included. Organize your school year in style with the comprehensive, wire-bound Aim High Teacher Planner. This plan book features durable spiral binding for convenience and provides a place to record important information for quick and easy access. The monthly planning spreads allow you to plan goals and information for the month in one central spot. Each week covers an entire spread to allow you to record detailed notes and lesson plans. Use the checklists at the back to record grades, attendance, homework completion, and more. Check out other Aim High accents to create a cohesive classroom theme. ...Show more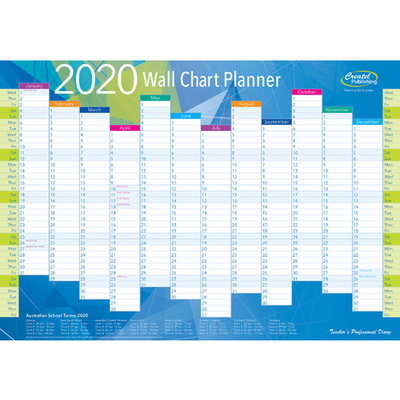 $4.95
AUD
Category: Teacher Diaries
View the entire school year at a glance with this full-colour gloss artboard (60cm x 42cm) Double-Sided Wall Chart Planner. Featuring a 4-term planner on one side and a yearly planner on the other, as well as term dates and national public holidays.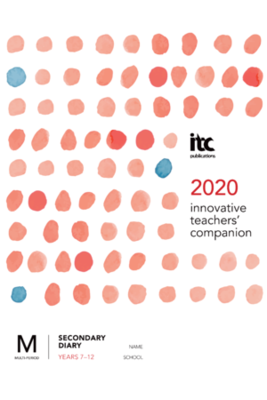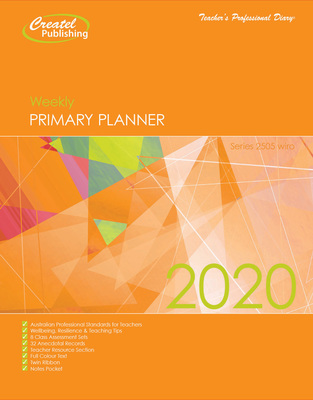 $23.95
AUD
Category: Teacher Diaries
With its week-to-a-view layout, our Primary Weekly features a fresh new 32 page colour teacher resource section and new layout to suit your planning style. Select from wiro-bound or loose leaf, and then add your own touch with our stylish cover accessories. As part of our Primary Teacher's Profession al Diary range, this planner includes all-new wellbeing & teaching tips, as well as a durable double-laminated cover, three month at-a-view planner, 8 class assessment and anecdotal records, teacher's resource section, tear-off assessment quick-notes, built-in twin ribbon (wiro only), polypropylene notes pocket (wiro only) and an extract summary of the Australian Professional Standards for Teachers. The planner also includes: 208 A4 pages 9am-4pm daily meetings schedule Priorities this week section Classroom notes and resources section Phone Calls & Parent Meetings section ...Show more
$25.99
AUD
Category: Teacher Diaries
Available in dated or undated formats for daily & weekly planners Keep on track with your class activities and student records with all you need in one organised Primary Daily Planner. Free Plastic Dust Jackets Supplied On All Bound Diaries & Planners   Features Refreshed Design  Per sonal Details  2018 Year Planners, 2018 & 2019 calendars  Public Holidays & Term Dates  Professional Development Records  Personal Contacts  Timetable Blanks  Seating & Special Arrangement Seating Plan  Email / Correspondence Records  Interview Records  Staff Meetings  Curriculum Outline Planning  'Must Do' Activities – Blank for Day / Week  Space to list Meetings / Duties  Student Notes  Student Work & Test Record Pages  Home Class Records  1 x Plastic Pocket ...Show more