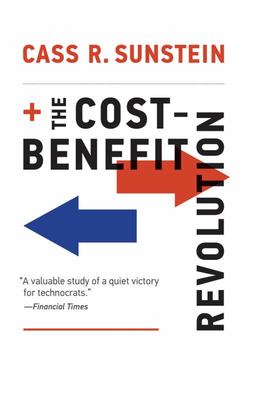 $43.99
AUD
Category: Economics
Why policies should be based on careful consideration of their costs and benefits rather than on intuition, popular opinion, interest groups, and anecdotes. Opinions on government policies vary widely. Some people feel passionately about the child obesity epidemic and support government regulation of su gary drinks. Others argue that people should be able to eat and drink whatever they like. Some people are alarmed about climate change and favor aggressive government intervention. Others don't feel the need for any sort of climate regulation. In The Cost-Benefit Revolution, Cass Sunstein argues our major disagreements really involve facts, not values. It follows that government policy should not be based on public opinion, intuitions, or pressure from interest groups, but on numbers--meaning careful consideration of costs and benefits. Will a policy save one life, or one thousand lives? Will it impose costs on consumers, and if so, will the costs be high or negligible? Will it hurt workers and small businesses, and, if so, precisely how much? As the Obama administration's "regulatory czar," Sunstein knows his subject in both theory and practice. Drawing on behavioral economics and his well-known emphasis on "nudging," he celebrates the cost-benefit revolution in policy making, tracing its defining moments in the Reagan, Clinton, and Obama administrations (and pondering its uncertain future in the Trump administration). He acknowledges that public officials often lack information about costs and benefits, and outlines state-of-the-art techniques for acquiring that information. Policies should make people's lives better. Quantitative cost-benefit analysis, Sunstein argues, is the best available method for making this happen--even if, in the future, new measures of human well-being, also explored in this book, may be better still. rs and small businesses, and, if so, precisely how much? As the Obama administration's "regulatory czar," Sunstein knows his subject in both theory and practice. Drawing on behavioral economics and his well-known emphasis on "nudging," he celebrates the cost-benefit revolution in policy making, tracing its defining moments in the Reagan, Clinton, and Obama administrations (and pondering its uncertain future in the Trump administration). He acknowledges that public officials often lack information about costs and benefits, and outlines state-of-the-art techniques for acquiring that information. Policies should make people's lives better. Quantitative cost-benefit analysis, Sunstein argues, is the best available method for making this happen--even if, in the future, new measures of human well-being, also explored in this book, may be better still. ...Show more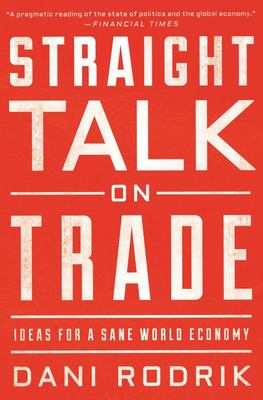 $37.99
AUD
Category: Economics
Deftly navigating the tensions among globalization, national sovereignty, and democracy, Straight Talk on Trade presents an indispensable commentary on today's world economy and its dilemmas, and offers a visionary framework at a critical time when it is most needed.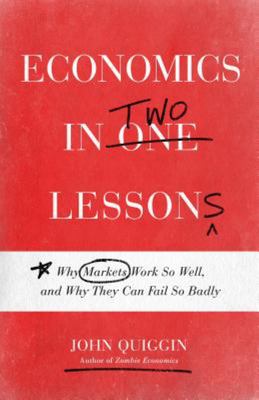 $29.99
AUD
Category: Economics
A masterful introduction to the key ideas behind the successes--and failures--of free-market economics Since 1946, Henry Hazlitt's bestselling Economics in One Lesson has popularized the belief that economics can be boiled down to one simple lesson: market prices represent the true cost of everything. B ut one-lesson economics tells only half the story. It can explain why markets often work so well, but it can't explain why they often fail so badly--or what we should do when they stumble. As Nobel Prize-winning economist Paul Samuelson quipped, "When someone preaches 'Economics in one lesson, ' I advise: Go back for the second lesson." In Economics in Two Lessons, John Quiggin teaches both lessons, offering a masterful introduction to the key ideas behind the successes--and failures--of free markets. Economics in Two Lessons explains why market prices often fail to reflect the full cost of our choices to society as a whole. For example, every time we drive a car, fly in a plane, or flick a light switch, we contribute to global warming. But, in the absence of a price on carbon emissions, the costs of our actions are borne by everyone else. In such cases, government action is needed to achieve better outcomes. Two-lesson economics means giving up the dogmatism of laissez-faire as well as the reflexive assumption that any economic problem can be solved by government action, since the right answer often involves a mixture of market forces and government policy. But the payoff is huge: understanding how markets actually work--and what to do when they don't. Brilliantly accessible, Economics in Two Lessons unlocks the essential issues at the heart of any economic question. ...Show more
$64.99
AUD
Category: Economics
A provocative account of capitalism's rise to global dominance and, as different models of capitalism vie for world leadership, a look into what the future may hold. We are all capitalists now. For the first time in human history, the globe is dominated by one economic system. In Capitalism, Alone, lead ing economist Branko Milanovic explains the reasons for this decisive historical shift since the days of feudalism and, later, communism. Surveying the varieties of capitalism, he asks: What are the prospects for a fairer world now that capitalism is the only game in town? His conclusions are sobering, but not fatalistic. Capitalism gets much wrong, but also much right--and it is not going anywhere. Our task is to improve it. Milanovic argues that capitalism has triumphed because it works. It delivers prosperity and gratifies human desires for autonomy. But it comes with a moral price, pushing us to treat material success as the ultimate goal. And it offers no guarantee of stability. In the West, liberal capitalism creaks under the strains of inequality and capitalist excess. That model now fights for hearts and minds with political capitalism, exemplified by China, which many claim is more efficient, but which is more vulnerable to corruption and, when growth is slow, social unrest. As for the economic problems of the Global South, Milanovic offers a creative, if controversial, plan for large-scale migration. Looking to the future, he dismisses prophets who proclaim some single outcome to be inevitable, whether worldwide prosperity or robot-driven mass unemployment. Capitalism is a risky system. But it is a human system. Our choices, and how clearly we see them, will determine how it serves us. ...Show more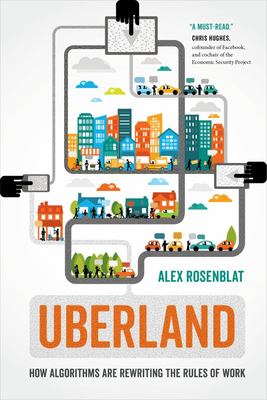 $37.99
AUD
Category: Economics
Silicon Valley technology is transforming the way we work, and Uber is leading the charge. An American startup that promised to deliver entrepreneurship for the masses through its technology, Uber instead built a new template for employment using algorithms and Internet platforms. Upending our understan ding of work in the digital age, Uberland paints a future where any of us might be managed by a faceless boss. The neutral language of technology masks the powerful influence algorithms have across the New Economy. Uberland chronicles the stories of drivers in more than twenty-five cities in the United States and Canada over four years, shedding light on their working conditions and providing a window into how they feel behind the wheel. The book also explores Uber's outsized influence around the world: the billion-dollar company is now influencing everything from debates about sexual harassment and transportation regulations to racial equality campaigns and labor rights initiatives. Based on award-winning technology ethnographer Alex Rosenblat's firsthand experience of riding over 5,000 miles with Uber drivers, daily visits to online forums, and face-to-face discussions with senior Uber employees, Uberland goes beyond the headlines to reveal the complicated politics of popular technologies that are manipulating both workers and consumers. ...Show more
$32.99
AUD
Category: Economics
How the obsession with quantifying human performance threatens education, medicine, business, government--and the quality of our lives Today, organizations of all kinds are ruled by the belief that the path to success is quantifying human performance, publicizing the results, and dividing up the reward s based on the numbers. But in our zeal to instill the evaluation process with scientific rigor, we've gone from measuring performance to fixating on measuring itself--and this tyranny of metrics now threatens the quality of our organizations and lives. In this brief, accessible, and powerful book, Jerry Muller uncovers the damage metrics is causing and shows how we can begin to fix the problem. Filled with examples from business, medicine, education, government, and other fields, the book explains why paying for measured performance doesn't work, why surgical scorecards may increase deaths, and much more. But the book also shows that, when used as a complement to judgment based on personal experience, metrics can be beneficial, and it includes an invaluable checklist of when and how to use them. The result is an essential corrective to a harmful trend that increasingly affects us all. ...Show more
Economics
by Matthew Forstater
$19.99
AUD
Category: Economics | Series: 50 Ideas in 500 Words Ser.
Economics: 50 in 500 words explores the most crucial economic concepts by way of 50 remarkable individuals whose ideas have reshaped human history, including thinkers such asLocke, Marshall, Marx and Keynes. From the pre-classical economics of the ancient world to the development economics of the modern age, the book is presented chronologically so that readers gain a distinct sense of the historical development of economics. With five features on everything from Growth Theory to Consumer Behaviour, Economics: 50 in 500provides a beautifully concise overview of complex issues and the great personalities that have shaped the path of world economic history. ...Show more
$37.99
AUD
Category: Economics
In the graveyard of economic ideology, dead ideas still stalk the land. The recent financial crisis laid bare many of the assumptions behind market liberalism--the theory that market-based solutions are always best, regardless of the problem. For decades, their advocates dominated mainstream economics, and their influence created a system where an unthinking faith in markets led many to view speculative investments as fundamentally safe. The crisis seemed to have killed off these ideas, but they still live on in the minds of many--members of the public, commentators, politicians, economists, and even those charged with cleaning up the mess. In Zombie Economics, John Quiggin explains how these dead ideas still walk among us--and why we must find a way to kill them once and for all if we are to avoid an even bigger financial crisis in the future. Zombie Economics takes the reader through the origins, consequences, and implosion of a system of ideas whose time has come and gone. These beliefs--that deregulation had conquered the financial cycle, that markets were always the best judge of value, that policies designed to benefit the rich made everyone better off--brought us to the brink of disaster once before, and their persistent hold on many threatens to do so again. Because these ideas will never die unless there is an alternative, Zombie Economics also looks ahead at what could replace market liberalism, arguing that a simple return to traditional Keynesian economics and the politics of the welfare state will not be enough--either to kill dead ideas, or prevent future crises. In a new chapter, Quiggin brings the book up to date with a discussion of the re-emergence of pre-Keynesian ideas about austerity and balanced budgets as a response to recession. ...Show more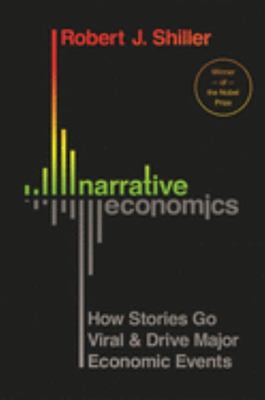 $49.99
AUD
Category: Economics
From Nobel Prize-winning economist and New York Times bestselling author Robert Shiller, a new way to think about how popular stories help drive economic events In a world in which internet troll farms attempt to influence foreign elections, can we afford to ignore the power of viral stories to affect economies? In this groundbreaking book, Nobel Prize-winning economist and New York Times bestselling author Robert Shiller offers a new way to think about the economy and economic change. Using a rich array of historical examples and data, Shiller argues that studying popular stories that affect individual and collective economic behavior--what he calls "narrative economics"--has the potential to vastly improve our ability to predict, prepare for, and lessen the damage of financial crises, recessions, depressions, and other major economic events. Spread through the public in the form of popular stories, ideas can go viral and move markets--whether it's the belief that tech stocks can only go up, that housing prices never fall, or that some firms are too big to fail. Whether true or false, stories like these--transmitted by word of mouth, by the news media, and increasingly by social media--drive the economy by driving our decisions about how and where to invest, how much to spend and save, and more. But despite the obvious importance of such stories, most economists have paid little attention to them. Narrative Economics sets out to change that by laying the foundation for a way of understanding how stories help propel economic events that have had led to war, mass unemployment, and increased inequality. The stories people tell--about economic confidence or panic, housing booms, the American dream, or Bitcoin--affect economic outcomes. Narrative Economics explains how we can begin to take these stories seriously. It may be Robert Shiller's most important book to date. ...Show more
Items per page:
1 - 9 of 9