$24.99
AUD
Category: ANZAC Day
This story is based on the true experiences of a remarkable horse called Bess, one of 10,000 NZ horses sent overseas to battle in World War One. Tragically, at the end of the war the horses could not return to New Zealand due to quarantine laws and a shortage of ships.  Luckily for Bess, her master batt led to have her returned home. She was quarantined with three other horses in England before being shipped back to New Zealand where she continued a pleasant pastoral life after her confronting wartime experiences. ...Show more
$16.99
AUD
Category: ANZAC Day
A new wartime classic from two legends of children's literature! As the world commemorates the 100th anniversary of Armistice Day, Michael Morpurgo and Michael Foreman have teamed up with the British Legion to tell a new story inspired by the history of the poppy.  When John McCrae wrote his famous po em "In Flanders Field" among the trenches of war-torn Belgium, neither he nor a local village girl who saves a discarded draft of it could know what enormous power that poem would have on generations to come. ...Show more
$5.00
AUD
$14.99
(66% off)
Category: ANZAC Day
WE'RE ALL AUSTRALIANS NOW follows the tradition of A & R children's classics such as MULGA'S BILL BICYCLE and CLICK GO THE SHEARS, A.B. 'Banjo' Paterson's poem is illustrated by the award-winning Mark Wilson. In 1915, Australia's much-loved bush poet Banjo Paterson wrote, as an open letter to the tr oops, a poem he titles 'We're All Australians Now'. In this beautifully illustrated picture book, award-winning illustrator Mark Wilson evokes the spirit of Paterson's words in memory of those who fought in World War One. Ages: 4-8 ...Show more
$24.99
AUD
Category: ANZAC Day
More than 20 years after publication of the classic NZ story, The Bantam and the Soldier, Jennifer Beck and Robyn Belton have joined forces again to produce another heartwarming story from the First World War. This time it's the true story of Otago's Alexander Aitken and the violin that travelled with h im on his wartime journey, bringing music and solace to his fellow ANZACs. ...Show more
Reflection
by Rebecka Sharpe Shelberg
$16.99
AUD
Category: ANZAC Day
This award-winning and poignant picture book is about remembering those who serve in war. Left! Left! Left! Right! Left! We make our way in the dark. A family journeys through the early morning darkness … A group of young men huddle in a cold muddy trench … Reflection is a powerful tribute to those who have served their country. ...Show more
Anzac Tree
by Christina Booth (Illustrator)
$15.99
AUD
Category: ANZAC Day
Inspired by the story of two soldiers who planted two trees on their farm before they headed to the Great War, the story of the Anzac Tree is one that looks at the lives of those left behind in times of war.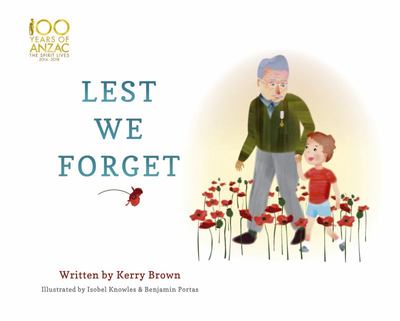 Lest We Forget
by K. Brown; I. Knowles (Illustrator); B. Portas (Illustrator)
$14.99
AUD
Category: ANZAC Day
THIS #1 BESTSELLING PICTURE BOOK WILL HELP EVEN THE VERY YOUNG UNDERSTAND THE SIGNIFICANCE OF ANZAC DAY. My granddad says there are two types of days: those you want to remember and those you want to forget ... A young boy visits his granddad and thinks about the important days in his life: his first da y of school, playing soccer with his team, the day his baby sister was born. Yet through the illustrations the reader sees a parallel story of the grandfather's experiences at war: wearing his brand-new soldier's uniform, with his fellow diggers in the field, looking at a photo of the baby he's never met. With illustrations from two extraordinary talents, Isobel Knowles and Benjamin Portas, this powerful story from author Kerry Brown will help even young children understand the significance and importance of our national days of remembrance. ...Show more
$19.99
AUD
Category: ANZAC Day
There's a track winding back, to an old-fashioned shack, along the road to Gundagai...' The words are familiar, but the story they tell may not be. Andrew McLean's illustrations bring to life the story of the men who went to the Great War, many of them never to return home.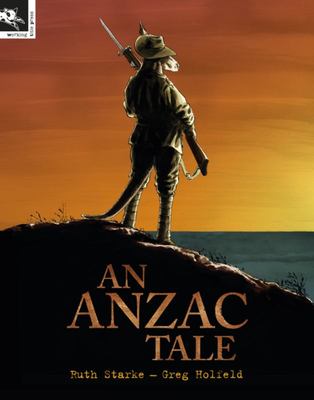 $19.99
AUD
Category: ANZAC Day
'AN EXTRAORDINARY AND ORIGINAL WORK ON GALLIPOLI AND THE ANZAC CAMPAIGN' - Readings With the outbreak of war in 1914, best friends Wally and Roy, and new mate Tom, are among the first to enlist. But their great adventure soon turns to disaster. The day after the landing at Anzac Cove on 25 April 1915, m ore than 2000 of their fellow Anzacs are dead and the bold attempt by the Allied commanders to knock the Turks out of the war becomes a stalemate. As the Gallipoli campaign drags on, Wally, Roy and Tom find themselves locked in combat with a formidable enemy, a ferocious landscape, flies, fleas, cold and disease. An Anzac Tale is a beautiful and thought-provoking graphic novel that skilfully introduces the events of the Gallipoli campaign. PRAISE FOR AN ANZAC TALE 'Well-crafted, emotionally charged panels create a cinematic experience.' - Magpies 'Phenomenally good. It's a cracker!' - Tom Jellett 'An Anzac Tale stands out as a work of art and a dedication to our fallen heroes. This fresh approach to the traditional Anzac story is sure to pique the interest of young readers...' - The Age '...a meticulously researched and presented graphic picture book that possesses the unique duality of being both breathtakingly beautiful, and poignantly tragic.' - Dimity Powell '...an impressive book...a thought-provoking, highly accessible, and graphically striking interpretation of the Anzac legend.' - Australian Book Review 'In this graphic novel, Ruth Starke and Greg Holfeld have combined to create an extraordinary and original work for upper primary students on the subject of Gallipoli and the Anzac campaign.' - Readings ...Show more
$16.99
AUD
Category: ANZAC Day
It is 1940, and sixteen-year-old Peter Fullerton and his best mate Tony Cantonelli lie about their age to enlist in the army. Tony also lies about his surnameAustralia is at war with Italy, and suspicion has been added to the racism he already encounters. Heroes of Tobruk follows these characters from t he outbreak of war, through military training to the Siege of Tobruk. Meticulously researched, it combines historical detail and factual information about World War II with a very powerful personal story. ...Show more
Never Forget
by Clare Hallifax; Simon O'Carrigan
$19.99
AUD
Category: ANZAC Day
Inspired by the extraordinary works of Australian artists painting the First World War as it happened around them, this evocative book commemorates and explores the sacrifice of the soldiers, nurses who served and the families at home waiting for their return. Illustrator Simon OCarrigan has worked with war museum collections to curate, collate and recreate the original art to produce heartbreaking illustrations in this one-of-a-kind Anzac book. ...Show more
$15.99
AUD
Category: ANZAC Day
Meet Torty! She's one tough little tortoise with a beat-up shell and some missing toes. Torty survived a great war that raged in Europe 100 years ago. Torty was rescued back then by a young Kiwi soldier. She is a World War One survivor.